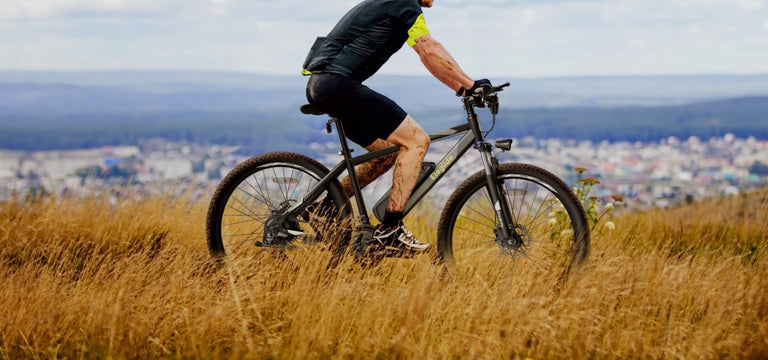 E-bike Wheel Sizes: Do They Really Matter?
Electric bikes have been increasingly popular in recent years as people look for greener and more efficient ways to travel. How to select the right wheel size has become one of the major questions for new e-bikers.
Does Wheel Size Really Matter?
The answer is definitely yes. To get the most out of your electric bike, it's important to choose the right wheel size. Simply put, different sizes suit different purposes and occasions. In this guide, we'll take you through the 4 main wheel sizes to consider when selecting electric bikes.
The 4 Main Wheel Sizes of E-Bikes
There are 4 main types of wheel sizes for e-bikes, including 20, 26, 27.5 and 29 inches.
20-inch
20-inch wheels are typically found on smaller folding e-bikes, making them a popular choice for urban commuters who need a bike that can be easily folded and carried and stored in a small space. E-bikes with 20-inch wheels are usually lightweight and nimble and run smoothly on flat roads, making them ideal for urban cycling. However, they are probably not suitable for rough terrain, as they do not offer as much stability or shock absorption as larger wheels.
26-inch
26-inch wheels offer a good balance between stability and agility. Compared with 20-inch wheels, they provide a steadier and more comfortable ride, even over bumpy terrain, and can match a variety of riding styles, from leisure to excitement. The Eleglide Tankroll model is designed with 26-inch wheels, which can travel over all terrains. If you're looking for a 26in all-terrain e-bike, have a look at Eleglide Tankroll.
27.5-inch
27.5-inch wheels, also known as "650B," are a popular option for e-bikes. One of the highlights of 27.5-inch wheels is improved handling. They provides a perfect balance between stability, agility and speed, making them easy to maneuver and steer, which is significant for riding electric bikes as e-bikes are basically heavier than a traditional bike due to the extra weight of the battery and motor. Any design that improves the agility of e-bikes will dramatically contribute to a more comfortable and safer ride.
Another benefit is increased speed. Larger wheels mean more progress for less effort and faster rolling over open terrain. A 27.5-inch wheel allows you to cover more distance in less time, which is significantly helpful to an effortless and enjoyable ride.
Furthermore, 27.5-inch wheels bring more comfort. Larger wheels provide better traction and roll over trail obstacles more easily and steadily. Ride an e-bike with 27.5-inch wheels, and you'll be able to tackle bumps and rough terrain with greater ease, reducing the likelihood of experiencing discomfort or injury while riding.
As has been demonstrated, the 27.5-inch wheels are preferable to commuting or longer rides. Taking advantage of the 27.5-inch tires, Eleglide has made its bikes as stable and agile as possible. The Eleglide M1, M1 Plus, T1, T1 Step-Thru and Citycrosser all come with 27.5-inch wheels. If you want an effortless and efficient way to get around, take the 27.5-inch Eleglide bikes into account for your next ride.
29-inch
29-inch wheels are the largest option for e-bikes and offer the greatest stability and efficiency. They provide a smooth ride, even over rough terrain, and are ideal for off-road adventures or long-distance rides. However, e-bikes with 29-inch wheels are often better suited to taller riders as they usually have bigger frames and may not be as nimble as ones with smaller wheels. The Eleglide M1 Plus model has an extended wheel size of 29 inches to cater for taller riders (Available soon). If you're 5'6" or above, the 29" M1 Plus will fit you well and you'll have a blast with it.
Go get a perfect size for your own and have fun with your new e-bike.
---
3 comments
---
---