Warranty Policy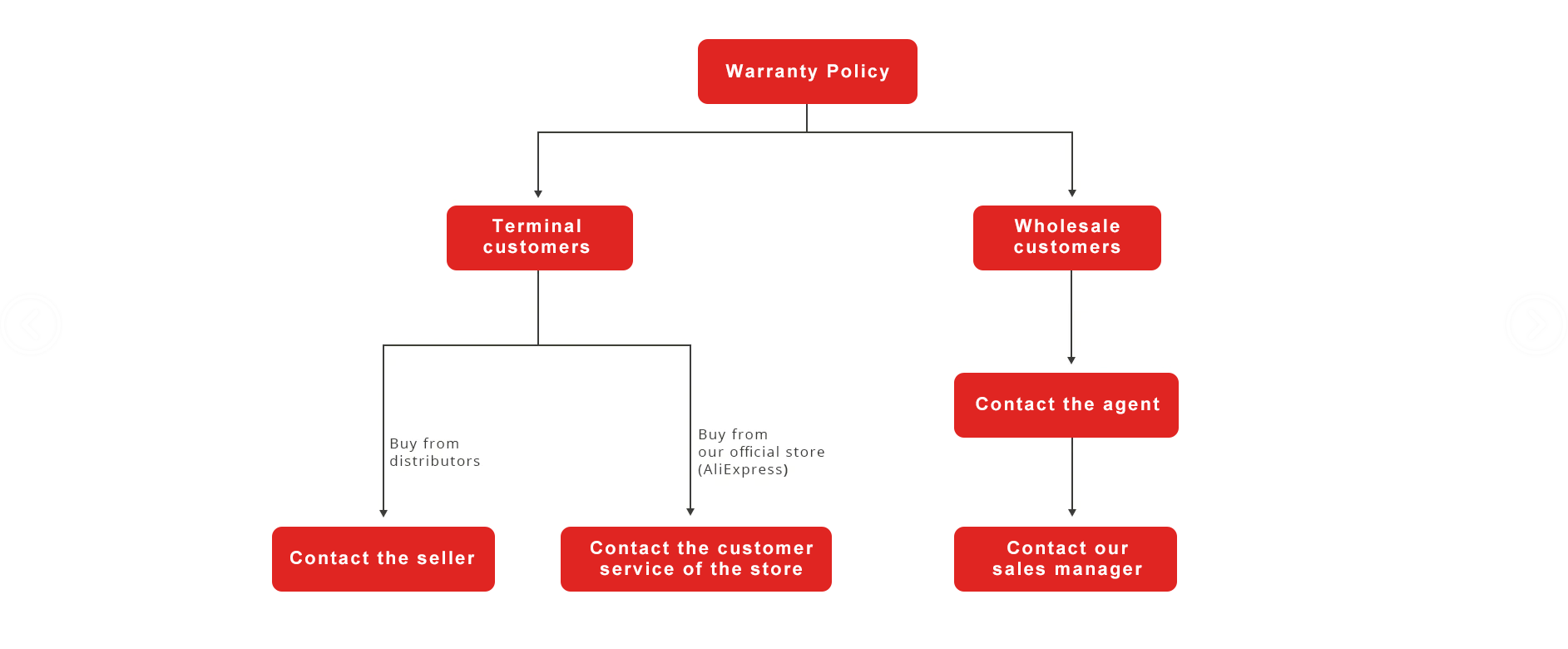 Warranty Information
Eleglide provides an easy, reliable and efficient service for all products under our warranty. Please refer to the chart below for the warranty periods of various products and accessories.
Our distributors, partners, sellers and re-sellers should provide after-sale services directly to their customers. If your Eleglide product has a warranty-related issue, please contact the seller from whom you purchased the product. You should provide all relevant order information, such as warranty cards, invoices, receipts, etc.
Others
Product Category

Model

Components

Warranty

Notes

Electric Bike

Tankroll

Citycrosser

T1 Step Thru

T1

M2

M1 Plus (APP)

M1 Plus

M1

F1

Frame

3 years

The following conditions are not coverd by the warranty:
1. water damage of the battery, motor and controller.
2. Manmade damage, selfmodification, collision damage of spare parts, etc.
3.Tire puncture by sharp objects.

Front Fork

1 year

Controller

1 year

Motor

1 year

Charger

1 year

Battery

6 months

Control Panel

6 months

Chainwheel

6 months

Freewheel

6 months

Brake Assembly

6 months

Thumb Shifter

6 months

Front Derailleur

6 months

Rear Derailleur

6 months

Kickstand

3 months

Front Light

6 months

Pedal

3 months

Others

14 days

Electric Scooter

Coozy

S1

S1 Plus

D1

D1 Master

Frame

1 year

Motor

1 year

Accelerator

1 year

Controller

1 year

Accelerator

1 year

Battery

6 months

Charger

6 months

Display

1 year

Disc Brake

1 year

Brake Assembly

1 year

Folding Assembly

1 year

Front Light

1 year

Rear Light

1 year

Handlebar

1 year

Handlebar Grip

14 days

Wheel

30 days

Saddle (D1)

14 days

Others

14 days
Shipping Damage Claims
Upon receipt, the Customer should immediately inspect Products for damage. Freight damage claims can be extremely time sensitive, and therefore, Eleglide will not accept freight damage claims later than 14 days from Customer's receipt of the Product. The Customer should note any damage to the Products on the Bill of Lading before the shipment is accepted. The Customer should also document any damage with photographs, and date the images whenever possible. Furthermore, the Customer should keep all packaging and paperwork until the inspection process is complete.
Damage claims must be reported to Eleglide within 14 days of delivery. Please contact the Customer Support team for return/replacement/refund instructions by submitting a ticket at support@eleglide.com.
Warranty Process
Buyers have to provide sufficient proof of purchase.
A description of the defect needs be provided in order to issue a warranty claim.
Visible proof of defect must be provided along with the item's serial number (if any).
Eleglide must document what happens when buyers troubleshoot the products.
You may need to return an item for quality inspection.
When you return the defective product, you should put it in the original packaging or the packaging approved by the dealer.
Valid Proof of Purchase
The order number of your online purchase from the Eleglide's authorized reseller. (Check the resellers from where to buy page.)
Sales invoice.
Dated sales receipt from the authorized Eleglide's reseller.
Please note that more than one type of proof of purchase may be required to process a warranty claim (such as receipt of money transfer and confirmation of address that the item was originally shipped to).
Warranty will be void

in the following situations

:
The product is out of the warranty period.
The product is lost or stolen.
The product is free or complimentary.
The product is used in inappropriate ways or conditions, including but not limited to: falls, extreme temperatures, water, improper operations.
The product is not in its original state, such as modifications.
The product has been used in combinations with accessories that is not compatible with the product.
Buyers have no sufficient proof of purchase of products.
Unsupported software or firmware has been installed to the product.
When a damage is caused by the customer, the customer is responsible for the costs for the repairs and shipment.
Customers' personal items are sent to Eleglide, instead of the Eleglide products.
The product is purchased from an unauthorized re-seller.
Even if your problems are not covered by the Warranty, you can purchase the replacement parts from us. As the manufacturer, we offer competitive prices for the parts of our bikes. Considering that some replacement parts are not displayed on the website, to purchase replacement parts from us, please contact us at support@eleglide.com for further information.
Repairs
To request a repair, please write an email to: support@eleglide.com
The serial number, description of the issue, a short video or photos and the invoice (PDF) should be included in your email.
We will respond within 24 hours after receiving your email.