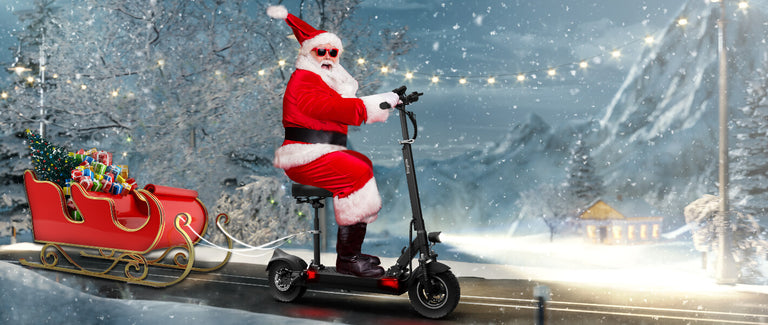 Are You Ready for Christmas
Christmas is an important festival that people will celebrate together with families after a short or long journey from somewhere else. It's the happiest time of the year. As Christmas is approaching, everyone is counting down to it. Are you ready for the biggest annual festival? Do you still have no clue what to shop for Christmas? Don't bother yourself. Join Eleglide and pick the best gifts for your families and friends.
S1 & S1 Plus
The Eleglide S1 and Eleglide S1 Plus scooters are professional commuter vehicles. They both have a 400W motor that is powerful enough for your daily ride. Coupled with 10" pneumatic tires, these superior scooters adapt to multiple road surfaces and run more steadily than the regular one with 8" tires, enabling you to have a more comfortable short trip. The height of their handlebars is adjustable, allowing both you and your family to use them and to enjoy a happy family time on a journey. Besides, whether you are in a car or other transportation, it is always convenient to carry a S1 or S1 Plus scooter, since it takes you no more than 5 seconds to fold each of them. What's more, they are designed with 3 speed modes, making it easier for novices to learn. The ECO mode allows you to enjoy the roadside scenery during commuting. Switching to the standard mode, you can enjoy the fun of riding without being too fast to miss anything around. Shifting to the sport mode to accelerate the ride, you will never be late for work.
If you are looking for a cost-effective and professional commuter e-scooter, you should have a blast with Eleglide S1 or S1 Plus. For a riding need up to 30km, Eleglide S1 is an ideal option for you. For a maximum need of 45km, Eleglide S1 Plus with 12.5Ah battery capacity can't fit you more.
D1
The Eleglide D1 scooter is a professional long-distance vehicle that can be used for both commutes and travels. It goes smoothly in the fields and woods thanks to its 10" pneumatic off-road tires. Upgraded with full suspension system, it can move steadily even on bumpy roads, leaving you a comfortable ride on any terrains. Designed for better protection and higher security, D1 has a good braking system, including front and rear disc brakes. You can stop the scooter instantly and safely anytime and anywhere by hitting the brakes. Being powered by a 500W motor and an 18Ah battery, this scooter is able to reach a maximum speed of -km/h and a maximum range of 70km that is long enough for your commute and day trips.
Coming additionally with a height-adjustable seat, it spares you a long-time standing during your ride to work or to the travel destination, and you will feel like riding an electric motorcycle while riding this high-performance scooter. Besides, its sidelights can be signals when you're going to make a turn. If you want a more relaxing long-distance ride, the Eleglide D1 e-scooter will undoubtedly be your first choice.
D1 Master
The Eleglide D1 Master scooter is a high-speed off-road vehicle. It has two 500W motors with one on the front and another on the back that supply stronger power and enable it to speed up to -km/h. This scooter is improved with full suspension system, particularly with 4 damping springs on the front, having surprising shock absorption effects that sharply reduces the impact caused by uneven road surfaces over high-speed riding. For higher security and stronger protection, the scooter is equipped with a professional braking system, including front and rear disc brakes.
No matter how rough the road is, it can still be stopped instantly and safely by holding the brake lever. In addition, its steering light can be a signal when there is tailgating. If you want an exciting trip with your friends, Eleglide D1 Master will definitely be the best option for you.
Bring an Eleglide e-scooter home, and your family will have a greener and more convenient life. Take one to your friend, and your friend can be free from the rush to work and free to have a day trip. Without further ado, Eleglide is here to offer you the best options for Christmas presents and wish you all a merry Christmas!
---