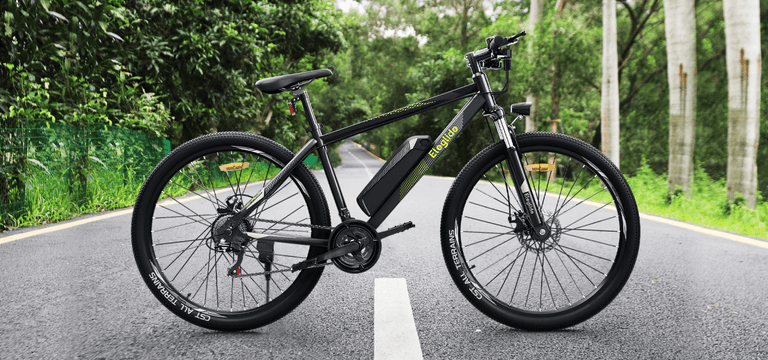 What's New in M1 Gen 2 and M1 Plus Gen 2
Since the first generations of M1 and M1 Plus were launched in 2021, Eleglide has received a lot of followers along with thousands of compliments and comments. We've been listening to the voices from Elegliders all over the world. To meet more demands and achieve a higher level of satisfaction, we bring the second generations to the world.
Take a glance of M1 Gen 2, and you'll find that it has a larger size of wheel and a longer handlebar. The improved 27.5-inch tires adapt to a variety of road surfaces and run smoothly even in bumpy terrain. The handlebar is 26.8in, wider than the original model. Compared with the old one, it's more comfortable and suitable for cyclists.
Besides, for stronger security, the new version is equipped additionally with a rear reflector that is safer for cyclists to ride on roads at night.
The vibration damping design is also upgraded to meet different demands. It has a hydraulic suspension system with a lockout, which is definitely good news for those who are seeking for speed and excitement in cycling.
The modified part of M1 Plus Gen 2 shares some resemblance with M1 Gen 2. It's also improved with 27.5in wheels, a 26.8in handlebar, a rear reflector and a hydraulic shock absorber with a lockout.
But as a plus model, what makes its new generation standout is the brand-new LCD dashboard -- the highlight of its modification. It's sophisticated and versatile. The LCD panel can not only display various information, such as speed, distance and battery level, but also allow users to activate multiple functions by simple operations, including changing the unit of distance, activating the push mode, setting zero/non-zero start, etc. It makes cycling smarter and easier with no doubt.
What's more, these two new models offer customers a higher level of performance with no extra cost required. They're both sold at the original prices. Take one home and enjoy an exciting trip with the upgraded version!
---
4 comments
---
---