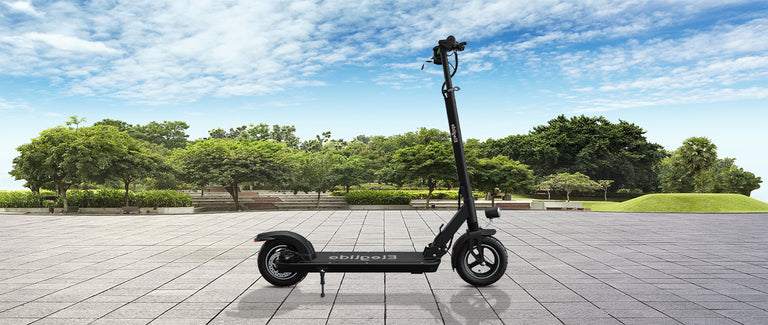 Eleglide S1--a Cost-effective Commuter Scooter
A variety of electric scooters are competing in the market. Are you still confused about how to choose a good e-scooter? If you are looking for a cost-effective electric scooter for commuting, you should take a look at Eleglide S1. As a professional commuter vehicle, Eleglide S1 has all the designs and functions that you need for daily commute ride and is provided at a competitive price, which is a surprisingly great value for money.
Outstanding Design for Commute
1. Lightweight & Folding Design
A good commuter scooter should be easy to fold and light enough for commuters to lift it up and carry it anywhere. Eleglide S1 is lightweight and comes with a folding design that is much easier than others. It can be folded in seconds by pulling the folding lever. What's more convenient is that Eleglide S1 has a folding handlebar that can be folded on both sides, while most of the electric scooters don't have one which is trouble in carrying since the wide open handlebar may hit people when the scooter is lifted up. Own an Eleglide S1 e-scooter, and you won't have such a problem. Instead, you'll enjoy safe and worry-free carrying.
2. Stronger Power
Compared with commuter scooters of other brands, Eleglide S1 has a more powerful motor. A 400W motor provides Elegliders with strong and stable power, enabling users to ride the scooter steadily and easily on any city streets, especially uphill slopes. Thanks to the high-performance motor, Eleglide S1 is equipped to climb on a 20% slope, sparing you struggles in an uphill climb, while others can go no more than 15%. If there are slopes on your way to work, Eleglide S1 will be an ideal option for you.
3. Bigger Tires
A majority of commuter scooters have small tires, as their designers believe small size is functional enough on city streets and small tires cost less. As a user-oriented brand, Eleglide has taken some field trips in European cities and learned that there are various types of road surfaces, such as cement, cobbles, bricks, asphalt concrete, etc. In order to achieve better adaption to different road surfaces, Eleglide's designers equip S1 with 10-inch big tires. Unlike the common 8-inch size, 10-inch tires are able to go smoothly on uneven paths. Ride an Eleglide S1 scooter to work, and you'll have a smooth and happy start of a day.
4. Larger Battery
Eleglide S1 has not only stronger motor power, but also larger battery capacity. With an 8Ah battery, it is capable of running up to 30km(18.64mi) for each ride, which is longer than a lot of competitors and is far enough for your commute and other daily activities. Go with Eleglide S1, and you'll have no need to worry about insufficient riding distance.
5. More User-friendly Details
Apart from the above advantages, you can find more user-friendly details on Eleglide S1 that make it standout in the market. For instance, it has a foot deck with a width of 19cm(7.48in) that is wider than other brands and big enough to keep your feet parallel on it, making your ride more enjoyable. Besides, the shock absorbing function is barely found on commuter scooters. But Eleglide S1 is improved with a front shock-absorption device to offer a more comfortable riding experience to Elegliders, especially to those who have to go through bumpy paths on their way to work.
Great Value for Money
Eleglide S1 is not only superior in design, but also competitive in price, which is cheaper than other rivals with similar performance. Eleglide S1 is definitely a great value for your money.
Are you impressed by this cost-effective and professional commuter scooter? Take an Eleglide S1 scooter home, and your commute will be enjoyable and full of fun.
---