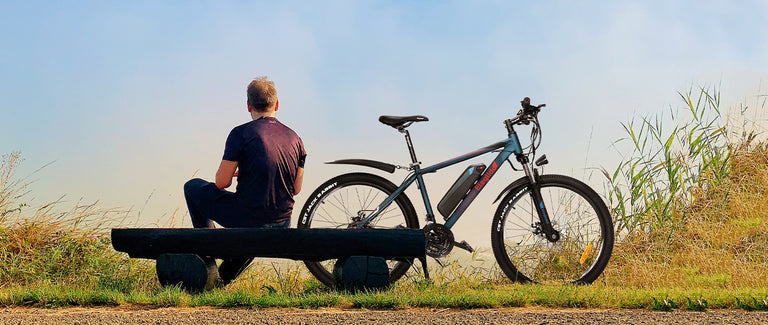 How to Choose an Electric Bike
Electric bikes vary in types, designs, functions, etc. Finding the most suitable one for your own is really important, as you will have awesome experiences and a lot of fun with it. However, selecting a perfect electric bike could be demanding. To help you find the perfect e-bike, we have listed a few points with detailed information that can get you clear about what fits you most.
1. Understand Your Needs
The e-bike type should first match your need of using one. Different electric bikes are designed for different purposes.
For instance, if you are going to use the bike for cross-country rides, a bike that comes with a powerful motor and off-road tires will definitely suit you more. But if you tend to use it for short commute, shopping or going around the neighborhood in the city, a lighter bicycle will be more convenient for you, instead of a heavy one with a powerful motor and a large battery.
2. Battery
The battery pack is one of the most important components of an e-bike, lithium-ion batteries are the most commonly used. Eleglide electric bikes all use 18650 lithium-ion batteries that have a large capacity and a long life under proper storage conditions. Besides, Eleglide M1 and M1 Plus both have detachable batteries, allowing you to charge the battery without parking the bike next to a socket.
You can get a new battery while the original one has been used long enough, saving your money for buying a new e-bike just for getting a new battery. In addition, Eleglide e-bikes are all designed with a battery protection system which is an integral part for the whole security system, enhancing the safety of both you and the bike.
3. Maximum Speed
If you are an enthusiast of cross-country rides, you probably prefer a higher speed for more excitement and more fun. Then a more powerful motor is exactly what you need. The more power it has, the higher speed it can reach. Eleglide e-bikes are equipped with 250W motors and 5 speed modes, reaching a maximum of 25km/h, which is certainly powerful and fast enough for your exciting cross-country rides.
4. Maximum Mileage on Power Mode
When you have decided the e-bike type, you should think about the longest distance that you want to reach on power mode. An electric bike reaching a maximum range of 65km on a single full charge, like Eleglide M1, is able to meet your daily needs, like commute, shopping, going to cafe, etc. If you need a riding distance up to 100km, the Eleglide M1 Plus bike can't fit you more. And an e-bike with a maximum mileage of 85km, like Eleglide F1, is capable of your trip rides and long commutes.
5. Speed Mode
Electric bicycles usually have different speed modes. To meet your multiple speed demands, Eleglide e-bikes come with 5 speed modes, including 12km/h, 16km/h, 20km/h, 23km/h and 25km/h. The low-speed mode is ideal for you to relax and enjoy the view during your ride. The high-speed mode enables you to get some excitements and move faster. But if you intend to cycle for fitness, you can turn off the motor and speed up by your own legs.
6. Uphill
For those who are big fans of cross-country cycling, the climbing capability of an e-bike is an indispensable feature that makes their mountain cycling less difficult. Eleglide electric bikes are all capable of climbing up to a 25% slope, enabling you to have an exciting cross-country ride.
7. Safety Design
Riding an electric bike below security standards is literally a risk of your own life. The safety design of an electric bike is absolutely the most significant among all the features. The more considerable security system it has, the safer your ride will be. A security system basically consists of braking system, safe lights, non-slip handles and tires. Eleglide e-bikes all have sensitive dual disc brake, bright headlights, anti-slip handles and high-quality CST pneumatic tires. All are designed to ensure your security of riding as much as possible. Though the e-bikes have high security standards, please don't forget to wear a helmet before you ride the bike.
8. Size
It's necessary to get an electric bicycle that fits your size, especially your height and weight.
If the handlebar is too tall or too short for you, it'll make your ride less comfortable and even dangerous, as your hands will probably slip out of the handles. For the concern of height issue, Eleglide e-bikes all come with height-adjustable handlebars and seats that can fit people of different heights.
Besides, the maximum load is as important as the height. If you get a bike that fail to afford your weight, your every ride on it will be a hazardous journey. So don't forget to check the maximum load before you order one.
Now you should be clear enough to make the best choice for your own. Go get yourself a perfect electric bike!
---