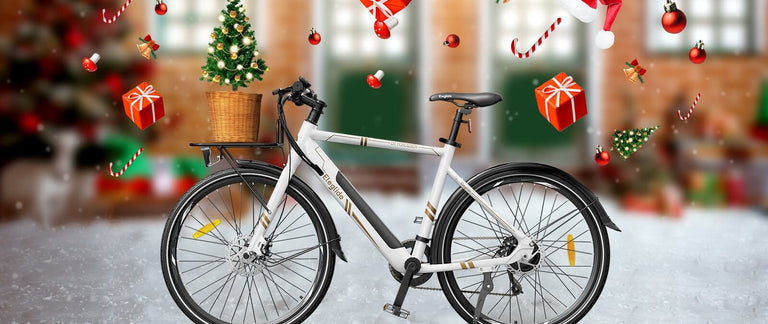 How to Decorate Your Bike for Christmas
December is already here. Time to think about your Christmas plans. Santa Claus dispatches gifts by sleigh. What about the means of transportation you use to deliver presents? If you are sending gifts by bike, you can decorate your bike to make your Christmas ride more delightful. It'll be a lot of fun to change its appearance with your imagination and aesthetics and make it the most eye-catching Christmas bike.
Christmas Ornaments for Bike Decoration
Lights
String lights are fantastic ornaments for Christmas. Everything in your Christmas celebration is brightened up by these small and cute lights. To match the Christmas theme, you can pick the shapes related to Christmas, such as Christmas trees, Santa Claus, snowflakes, snowmen, etc. String lights can be mounted on the bike frame and wheels. If you plan to ride the bike over Christmas, battery-powered lights are recommended since they don't have to be plugged in all the time. As the bike runs and the wheels roll, those little light bulbs make your wheels two big rings in all their glory.
Ribbons
Ribbons can make your bike colorful and vibrant. Red and green are classic Christmas colors. You can weave the bike frame and handlebars with red and green ribbons.
Dolls & Toys
If you've got a luggage rack on your bike, you can deck it with a variety of fascinating stuff, like dolls and toys. The luggage rack has the largest space for your adornments, where your creativity and aesthetics bloom. You can turn it into a tiny Christmas theme park by placing some Christmas items on it, like a stuffed Santa Claus, a couple of small snowman dolls, an illuminating Ferris wheel model, a toy train, a miniature Christmas tree, some flowers, etc. The tiny and adorable Christmas theme park is going to make your bike the most chic and enchanting Christmas view.
Speakers
Put a speaker on your bike, turn it on and play some of your favorite Christmas music. Your Christmas journey will be more enjoyable along with music.
Attire
Besides the bike decoration, you can also dress up with a Christmas outfit to make your ride even more appealing.
Christmas is approaching. We wish you a merry Christmas and a pleasant Christmas ride.
---