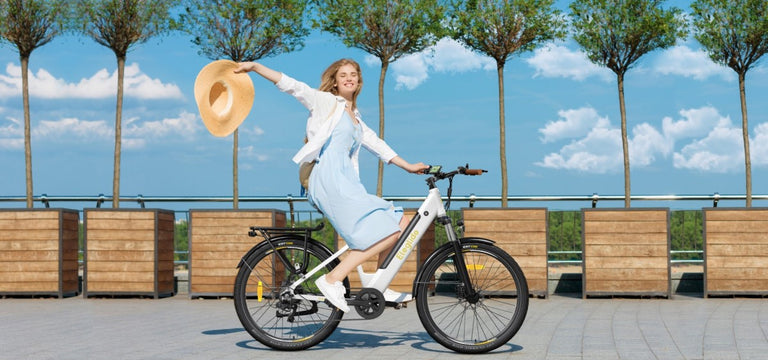 Some Nice Eleglide E-bikes for Women
Electric bikes are becoming increasingly popular as an alternative means of transportation. The convenience, cost-efficiency and eco-friendliness of electric bikes make them an attractive option for many commuters. In particular, electric bikes are well suited for women who want to get around with ease and efficiency.
However, electric bikes come in a variety of styles and sizes. Browsing through numerous e-bikes on the market, you're probably confused about where to start and what you should pay attention to to select the right one for your own. To spare you trouble, Eleglide has some nice e-bike options that greatly fit female riders.
Eleglide T1 Step-Thru
The Eleglide T1 Step-Thru features a low step-through design which is much easier for women of all heights to hop on and off.
Additionally, it has an adjustable stem that allows you to alter the stem angle for a comfortable riding posture. If you prefer to sit upright, you can change the stem angle to raise up the handlebars so that it can be closer to you and you can easily reach the handlebars without leaning forward.
For a more enjoyable ride, the T1 Step-Thru comes with a Selle Royal saddle that lets you sit comfortably over long distances and a lockable hydraulic suspension for better shock absorption.
Besides, it is equipped with a luggage rack at the back. Ladies can put their handbags or shopping bags on it and go shopping with ease.
With a powerful motor and a large battery, the T1 Step-Thru can reach a maximum speed of 25km/h and a long run of up to 100km in assist mode, ideal for long-distance travels.
Eleglide M1
The Eleglide M1 is an electric mountain bike that adapts to a variety of terrains. Though it doesn't have a step-through frame, it is designed with a 17-inch seat tube that better fits women's heights. The M1 model is an ideal option for female riders who are looking for an exciting cross-country ride.
For a fun and effortless off-road ride, it is enhanced with professional Shimano derailleurs including 3 gears in the front and 7 gears in the rear, which enable more progress for less effort.
The Eleglide M1 also comes with a lockable hydraulic suspension for a steady ride.
Women's Day is just around the corner. Ladies, it's time to revolutionize your travel style. How wonderful it is to get yourself an e-bike and say goodbye to the tiresome and troublesome commute! Go ahead and pick up an Eleglide e-bike, and you'll love traveling with it.
---