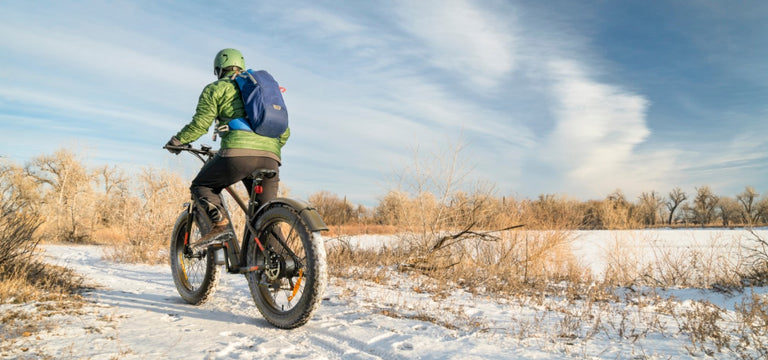 In winter or cold weather, cycling is a lot more arduous since cyclists have to deal with a variety of challenges, including low temperatures, snow, slippery roads, etc. Precautions are necessary for a healthy and safe winter cycling tour. Here are some tips to help you ride safely in winter.
Dress Up for Warmth and Comfort
Having the right winter cycling outfit is significant, because it will not only keep you warm and comfortable but also make you more efficient and endurant.
For the upper body, a breathable and absorbent base layer is essential as it removes sweat and dries quickly so as not to cool you down, helping to regulate your body temperature. The mid layer should provide insulation to retain heat. And the outer layer should work as a shield and be highly resistant to wind and water without being cumbersome.
For the lower body, you'll need a good pair of thermal bib tights that will keep your legs warm but won't overheat you. The tights should also be waterproof to keep your legs dry.
For a more comfortable and safer winter ride, you'll need more gear including headgear, eyewear,  gloves and winter boots.
A qualified helmet is indispensable for cycling. But on cold days, you need more than a standard helmet. A proper helmet for winter cycling should be thick enough to keep your head warm but not so heavy that makes you feel stressed or uncomfortable over your head. Ventilation is still required to avoid overheating of your head. Since cold air can easily take away your heat, a warm helmet with fewer vents is needed to better balance cold air and heat.
Cycling glasses are quite useful for eye protection, especially when cycling in winter, because it stops rain and snow running into your eyes and strong wind dehydrating the eyes.
Fingers get clumsy in the cold. Prolonged exposure to cold can even lead to frostbite and necrosis. Thus, warm cycling gloves can't be missed over a winter ride. They are going to protect your hands from coldness and moisture and keep the hands dexterous.
To keep your feet warm, a pair of professional winter cycling shoes is recommended to spare you toe numbness and prevent your feet from slipping off the pedals.
Keep Your Battery Warm
Batteries drain fast in cold weather that may lead to a lack of range. Fully charge your battery before every ride. When it is not being used, remove the battery from your bike and keep it warm in the room.
Prepare Your Bike for Winter Rides
A professional winter bike will facilitate your winter cycling a lot. An all-terrain fat bike like Eleglide Tankroll, can be a terrific partner for your winter ride. With those wide, strong tires, it provides you with better grip and traction on uneven surfaces. It can run on a couple of inches of fresh snow without wallowing. It floats on surfaces while a mountain bike or road bike would sink.
However, if you don't have a winter bike, it is vital that you pick one that you are already familiar with and prepare it for winter riding.
Fit some mudguards. Mudguards are helpful to avoid dirt splashing on you.
Clean your bike regularly. Snow, mud and dirt can easily get on your bike, especially on the motor, bike tires, chains and brakes. Muck accumulation can decrease the performance of your bike and increase safety risks. To ensure the functionality of your bike, it is better to clean your bike before and after each winter ride.
Replace your skinny tires with wide, puncture-proof tires with knobby tread, if possible. Knobby tires deliver more stability on loose terrain and avoid slipping on small debris or slick surfaces. Wide tires can run at lower pressures to float better on surfaces, enabling a smoother and more comfortable winter ride.
Equip your bike with some lights. In winter, sunlight is weak and darkness descends early. Cycling can be life-threatening when the bike paths are too dark to be seen. A set of lights is important to ensure visibility. Except for a headlight and taillight, side lights are also recommended for additional light source.
Ride Carefully
Roads and trails could be unpredictable in winter, especially on snowy days. For your safety, ride at low speeds, steer slowly and brake early on wet roads.
Winter Cycling can be a lot of fun. With enchanting winter scenery, your cycling journey is going to be more enjoyable.
---