Display Guide of M1
Version 1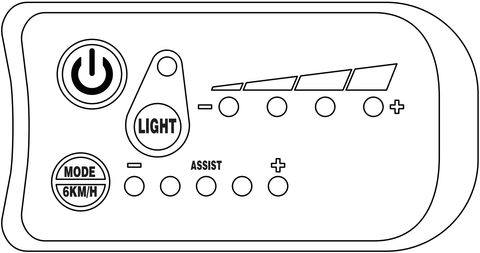 Power on/off

Press the ON/OFF button
to turn the LED display on/off.
Headlight on/off
When the display is turned on, press the LIGHT button 
to turn the headlight on. Press it again to turn it off.
Battery Power Indicator
When battery level is 100%, all the LED lights will be on. When there is only one LED light on and blinking, it means it's running out of battery power and it needs to charge immediately.
5 Speed Mode Indicator
The five LED lights below the word "ASSIST" represent the five speed modes, including 12 km/h, 16 km/h, 20 km/h, 23 km/h and 25 km/h. Press the MODE button 
to change the speed mode.
6km/h Push Mode
First, turn the LED display on 
and keep the bike standstill. Then, press the MODE button 
till the first light blinks
to turn on the 6km/h push mode. The push mode can be turned off by hitting the brake.
Version 2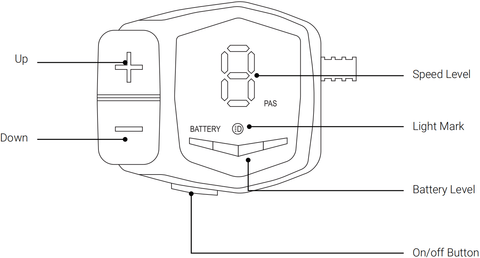 Battery Level Indicator

Functions
Power on/off: long press the on/off button for 3 seconds to turn the display on/off.
Light on/off: short press the on/off button to turn the light on/off.
Shifting Speed Level: short press + or - to shift among 5 speed levels, including 12/16/20/23/25 km/h.
6km/h Push Mode: when the bike is at zero speed, long press - till the speed level mark flashes. Then the push mode is activated.